Rutgers Gardens is pleased to offer guided tours of our beautiful grounds and garden areas from May through November. While the Gardens are free to visit and explore on your own, we do require a modest fee for guided tours. By supporting Rutgers Gardens through the tour program, your group will help us to enhance and beautify our garden spaces as well as to provide meaningful educational experiences for youth, adults, and university students throughout the year.
General tours are approximately 1 hour in length and vary with the seasons, showcasing areas that are in bloom or otherwise of particular interest at the time of the tour. General tours feature information about the history, ecology, and of course the plants of Rutgers Gardens. We are also happy to work with your group to design a customized educational tour focused on a particular topic and/or that lasts for an extended length of time; please note that an additional fee will apply for customized tours. The 10-guest minimum fee is due at time of reservation prior to your tour date, additional guest fees are paid before the tour begins. Please note that tours must be booked a minimum of one week in advance and dates/times are subject to availability.
Rutgers Gardens welcomes groups of 10 to 30 attendees for general tour sessions based on the following schedule and fee structure. Please note that while smaller groups are welcome, a minimum fee will apply. To ensure a positive experience for all attendees, we will split larger groups into smaller tours that run simultaneously with multiple guides.
Tours are held rain or shine, though Rutgers Gardens reserves the right to reschedule your tour in the event that extreme or unsafe weather is likely during your scheduled time.
Tour Schedule and Fees
Tuesday Morning (9:00am) or Wednesday Afternoon (1:00pm)
Adults: $10.00 per person
Seniors (65 and older): $8.00 per person
Children: $5.00 per child
For more information and to schedule your tour, call the Rutgers Gardens main office: 848-932-7000.
Please note that your tour is not confirmed until we receive payment and provide a confirmation receipt.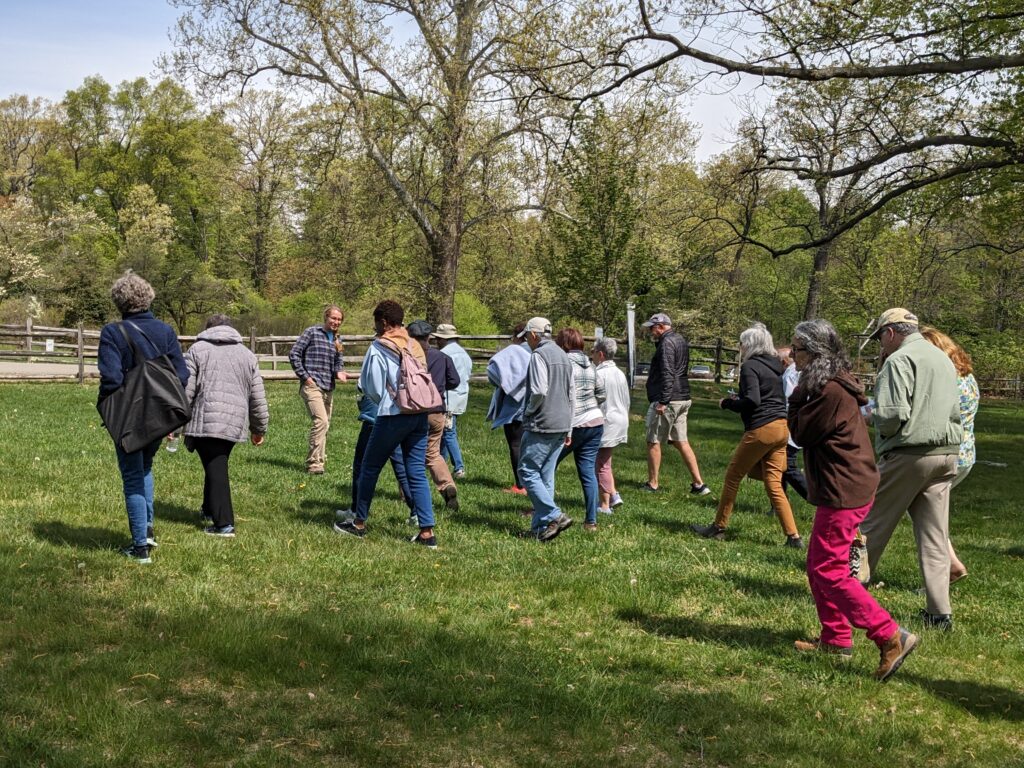 Looking for additional ways to experience Rutgers Gardens?
We are pleased to offer a new, in-depth walking tour series called "Explore with an Expert." One Saturday each month, Assistant Director Maxine Marvosa will present a two-hour excursion throughout Rutgers Gardens with a seasonally themed topic.
Please visit the Explore with an Expert webpage for more information and to purchase tickets.