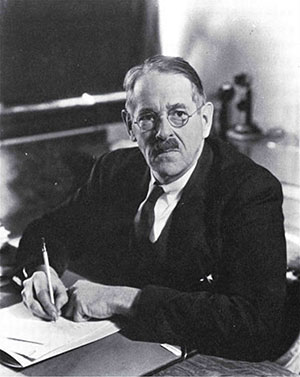 Helyar Woods currently spans nearly 60 acres and originated as two separate bequests to the university—one in 1927 and one in 1937. It is an old-growth forest that was initially composed predominantly of chestnut, beech, oak, and maple, but following the onset of chestnut blight, only one or two chestnut trees survive. Helyar Woods also contains several springs, a stream, and an old quarry near Westons Mill Pond.
Frank G. Helyar, a longtime advocate of woodlands and hiking for whom the woods are named, served as director of Short Courses, Professor of Animal Husbandry, and Director of Resident Instruction at the College of Agriculture, from 1917 to 1953. He received an honorary Doctorate of Letters from Rutgers in 1948 and retired in 1953. Helyar Woods was named in his honor on October 14, 1961, prior to his death on April 15, 1963.
Since he had grown up in an agricultural area, Helyar was aware of the problems facing his students; throughout the 1930s, rising enrollment in the College of Agriculture, coupled with the depression and a decline in government funding, put a strain on housing and teaching facilities. The sudden growth of the college also brought problems in apportioning rooms and finding scholarship funds for needy students. Helyar originated the concept of cooperative living groups, which were to become home to several generations of students at the Agricultural College. In fact, in the early 1960s, a group of alumni worked together to create a living tribute, Helyar House, a permanent cooperative-living dormitory for 40 students of agriculture in need of financial assistance, which was dedicated on October 22, 1968.