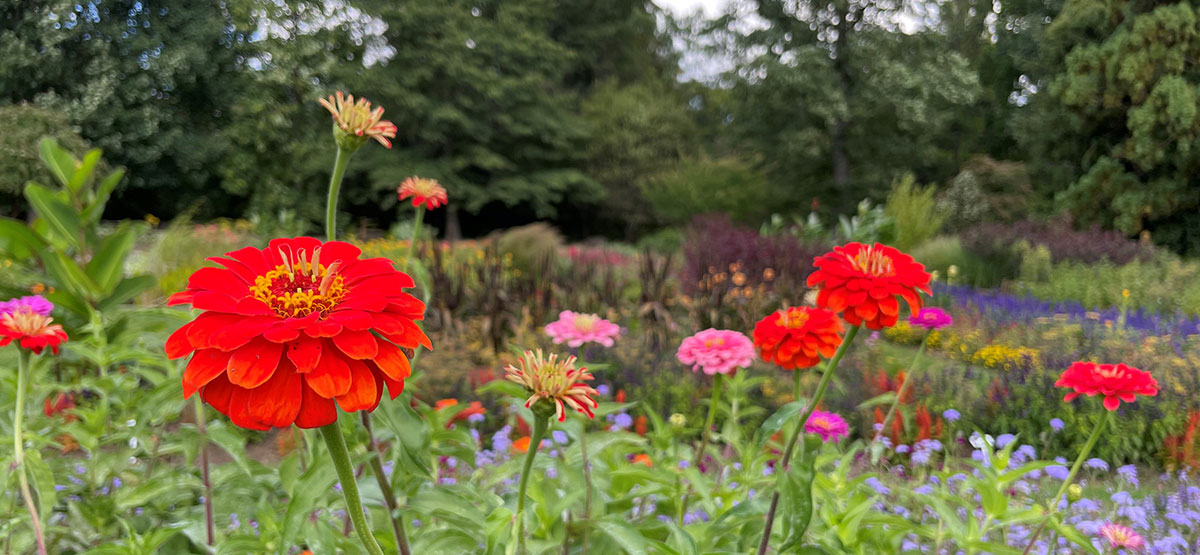 As a Rutgers Gardens Member, your support helps to ensure our display gardens, farms, and natural areas are available for all to enjoy.
Rutgers Gardens is open year-round, Tuesday – Sunday (closed on Mondays) and you are welcome to visit as often as you like to enjoy our "living museum" with its large array of gardens and plant collections.
You can make a difference! Memberships help support our efforts to feature premiere annual plant displays each season, care for the thousands of plant specimens in our perennial, shrub, and tree collections, ensure the conservation of our natural areas such as Helyar Woods, and teach the next generation of horticulturists through our summer internship and educational programs.
Rutgers Gardens Members Receive:
Priority invitations and early registration for events and programs at Rutgers Gardens.
Free or discounted admission and other perks at over 300 botanic gardens throughout North America and the Cayman Islands through the American Horticultural Society's Reciprocal Admissions Program.
Invitations for the member and a guest to attend a special "members only" lecture/program each year.
A voucher for a "plant of the year" redeemable at the Spring Flower Fair or Cook's Market.
Rutgers Gardens facility rental privileges. (New in 2023: only Rutgers Gardens members can rent site facilities for private, non-university events.)
Membership Levels
GENERAL MEMBERSHIP is now available to all at the special re-introductory rate of $50.00 per calendar year. Join now for membership through December 31, 2023!
We are also proud to offer a new STUDENT MEMBERSHIP level that is available to students enrolled at any accredited college or university for $25.00 per calendar year. Please note that student members must show a valid student ID upon request.
Donate Today
With general membership currently offered at only $50 in an effort to increase participation by horticulture enthusiasts at all income levels, Rutgers Gardens will increasingly rely on donations made by supporters who are able to contribute additional gifts. Any amount of additional support is welcome! When you register for your membership, please consider making an additional gift to even further enhance our ability to continue the horticultural traditions of Rutgers Gardens into the future.